Mrs Rochester Miss Kenshole
Class 16 Class 17
Mrs Titcombe
Mrs Swindall
Mrs Hackman
Parents Curriculum Evening - Tuesday 14 November
Click here to see the presentation notes
Documents - please click to open
Useful Information
Year 5 PE days are usually on Wednesdays and Thursdays, however children need to have their PE kits in school every day of the week.
Music lessons will take place on a Wednesday afternoon. Children will receive one term of recorder tuition and two terms of clarinet lessons.
If your child has anything they wish to discuss, please encourage them to approach their teacher first. In Year 5 we strive to achieve greater independence. We operate an open-door policy and welcome parents and guardians to approach and discuss any concerns with their child's teacher. Many thanks for your support in this busy academic year.
Year 5 Homework
Homework is handed out on Monday and collected back in on the following Monday.
Maths homework
Our Maths homework is to complete the weekly task(s) set on a Monday. Children are also required to practise their times tables with the related division facts each week in preparation for a times tables test every Friday.
English homework
Our English homework is to complete the weekly task(s) set on a Monday.
Reading homework
Children are expected to read at least 5 times a week for approximately 20 minutes each time and record their comments in their reading journals. It is imperative in Year 5 that children are reading regularly to help improve their writing and to prepare them for future years.


Spelling homework
Children need to practise their set spellings every evening in their 'home spelling books'. There are lots of spelling strategies to refer to at the front of these books.
Weekly homework
Maths homework
There is no maths homework this week.
English homework
There is no English homework this week.
Spelling Homework
Spellings Term 6 - Mrs Swindall and Mrs Titcombe's Group
Optional Homework
Geography day at Haydonleigh
This term, Year 5 were given the opportunity to experience a taste of secondary school geography! While half the year group went to Abbey Park and experienced 5 different languages as part of World Languages Day, the rest were challenged to choose a country, research it as much as possible and then present their findings back to each other. The children not only had complete freedom over which country they chose, but were able to use the new laptops to research whatever interested them and they could present their work however they preferred to! It was amazing to see how immersed they became in becoming an 'expert' on their part of the world and the information they taught each other (and us teachers) was incredible. Here are some photos of the day:
Year 5 Solar System project
A big thank you to all the children (and parents/siblings/grandparents etc) who produced fabulous Year 5 Solar System projects over half term! We were absolutely overwhelmed by the work we received – what a talented bunch you are! The children and staff alike loved admiring the exhibited work, discussing what they had learnt and sharing their varied projects. Miss Walters, Miss Kenshole and Mrs Rochester were blown away by the quality and creativity presented in our morning evaluation!
4 June - TD day

25th June – TD day

27 July to 31 August – Summer holidays
Years 5 and 6 have been busy developing our 4Rs (Resilience, Reciprocity, Resourcefulness and Reflectiveness)!
First, we mixed up into our house teams and accepted the challenge of using straws and masking tape to make the strongest bridges possible! After testing which shapes gave the strongest structure, we began to build our bridges in groups of 4 or 5. To test them, we piled weights on top of each bridge to see which one could hold the most before it collapsed! Well done to the Pumas who managed to make the strongest bridge! On reflection, we thought about how fair this test was and discussed what we would do differently next time. These are some of our amazing designs:
The next day, we mixed up into our house teams again to compete in a maths competition! We worked in pairs to solve different word problems, making sure to show all our working out! For each question we answered, we won some house points, raffle tickets and a letter (part of a code). For an extra 20 house points at the end, we had to try to work out what the code spelt. Well done to the children who worked out it was 'HAYDONLEIGH LOVES MATHS'! Here are some photos of us hard at work:
Building Learning Powers
In Year 5 we aim to develop the children's independence and attitudes to learning by encouraging them to consider the Four R's at all times during their learning. These are:
Reflectiveness, Reciprocity, Resilience, Resourcefulness.
These learning powers are regularly referred to by both adults and children throughout Year 5 and reminders are displayed in the classrooms. Children are familiar with the different learning powers and understand how they can demonstrate those attitudes in their learning.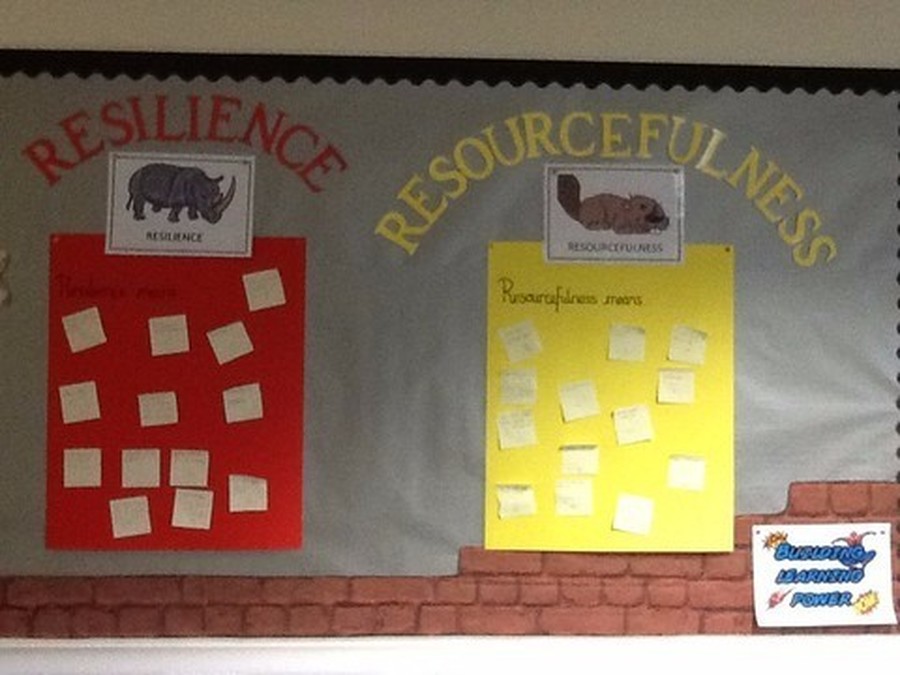 Last term, Years 5 and 6 found out about The Bloodhound Project, a team who are aiming to set a new land speed record of 1000mph! This project inspired us to have a go at investigating different variables that can affect a moving object's speed, and to set our own Haydonleigh house team records! To do this, we became scientists and mathematicians!
Throughout the day, the children worked incredibly hard and showed fantastic resourcefulness, reciprocity, resilience and reflectiveness! Here are some of the records that we set:
Cougars:
Longest running man: RA, NH and JV - 20+ minutes.

Longest arm span: AA - 125cm
Tigers:
Longest time staring without blinking: JB at 4 minutes 30 seconds.

Furthest throw of a bean bag: AJL at 20 m
Pumas:
Most keepie-uppies in one minute: FC at 34 successful keepie-uppies

Heaviest pencil case at TK 600g
Panthers:
Longest arm span: MZ at 158cm

Largest grasp/hand span: HC at 21 cm
Useful Links - Please click to open
Links to other sites

Certain links, including hypertext links, in Our Site will take you outside of our site. Links are provided for your convenience and inclusion of any link does not imply endorsement or approval by us of the linked site, its operator or its content. We are not responsible for the content of any website outside our Site.