National Curriculum
haydonleigh curriculum
Our school is committed to working in partnership. We aim for pupils, parents, guardians and staff to share our school values of creativity, respect, responsibility, enthusiasm and unity.
We believe in nurturing individual skills and working in partnership to enable everyone to meet their full potential. This is reflected in our school motto, 'I am talented; together we are amazing!' We encourage our children to practise our school values through the broad and balanced Haydonleigh curriculum.
We ensure this happens by providing a safe, happy and caring environment where children have every opportunity to access the substance of education: the curriculum.
Click to here to read our Curriculum Rationale leaflet
Haydonleigh Curriculum Drivers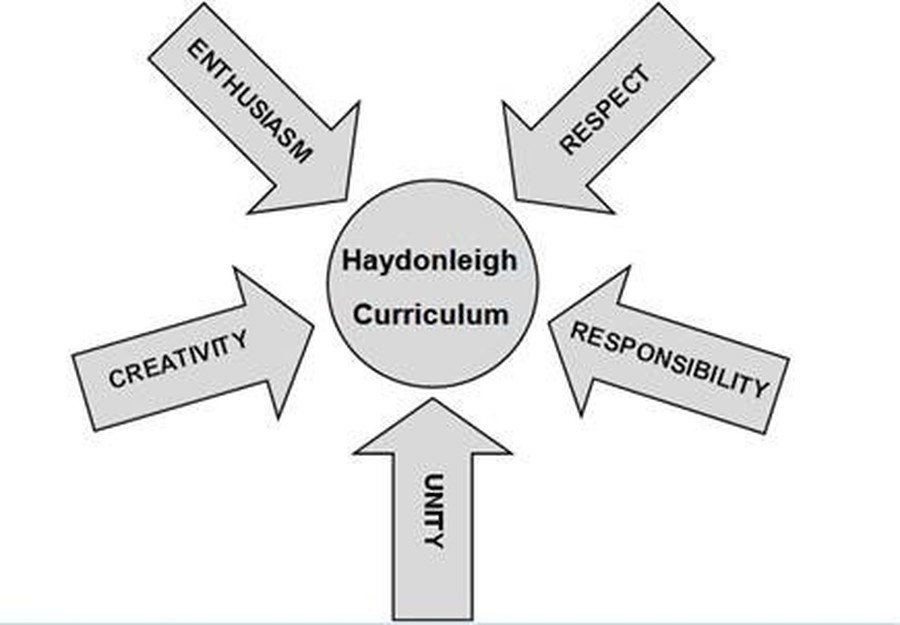 Our school values form the basis of everything we do and how we behave in and around school, from Foundation Stage to Year 6. We work together to ensure our school values drive our curriculum in all aspects of school life. Every opportunity is given to ensure Creativity, Respect, Responsibility, Enthusiasm and Unity are at the heart of learning. These values also support the teaching of British Values and SMSC (spiritual, moral, social and cultural education).
Haydonleigh Curriculum Maps
Please use the following links to find further details of our curriculum organisation, both across the whole school and by individual year groups.
national provision
The National Curriculum (2014) statutory requirements for each Year Group are mapped by core and non-core subject. The documents show the statutory areas that the children must be taught by year group for the core subjects (English, Maths and Science) and non-core. All non-core subjects are organised by Key Stage.
We use statutory documents for planning our school curriculum.
For the link to the Statutory National Curriculum please press here.
Curriculum rationale statement
These curriculum maps will give you an overview of what will be taught at Haydonleigh.
Click here to download a Parent's Guide to the Primary Curriculum
Haydonleigh Curriculum Provision