Vision and Values
Haydonleigh School's Vision
Vision is knowing where you are, where you are going and what will guide your journey.
At Haydonleigh, we believe that having a shared vision is an important part of school life. The children and adults at Haydonleigh have all helped to shape our vision, through regular activities, discussions and celebrations. Our vision has three elements: our purpose as a school; our school's core values and a picture of the future.
Haydonleigh's core values:
Assembly Content – SMSC links with Values
Week

Haydonleigh Value/British Value

Broadly Christian events / Celebrations at Haydonleigh

Spring 2

Week 1 w.c. 20/2/17

Respect

New SEAL unit launch

Week 2 w.c.27/2/17

Respect

Lent – Begins 1/3/17

Week 3 w.c. 6/3/17

Respect

Fairtrade fortnight 27/2/17 -12/3/17

Week 4 w.c.13/3/17

Respect

13/3/17 Holi festival St Patrick's day – 17/3/17

Week 5 w.c. 20/3/17

Responsibility

24/3/17 Comic Relief 25/3/17 Earth Hour

Week 6 w.c. 27/3/17

Responsibility

26/3/17 - Mother's day

Week 7 w.c. 3/4/17

Responsibility

16 /4/17 Easter

Summer 1

Week 1 w.c. 24/5/17

Enthusiasm

New SEAL unit launch
23 / 5/17 St George's day 27/5/17 Ramadan begins

Week 2 w.c. 1/5/17

Enthusiasm

Week 3 w.c. 8/5/17

Enthusiasm

Week 4 w.c. 15/5/17

Unity – British Value - Tolerance

14/5/17-2/5/17 Christian Aid Week

Week 5 w.c. 22/5/17

Unity

25/5/17 – Ascension day

Summer 2

Week 1w.c. 5/6/17

Unity

New SEAL launch.
4/6/17 – Pentecost

Week 2 w.c 12/6/16

Creativity

18/6/17 – Father's day

Week 3 w.c 19/6/17

Creativity

21/6/17 – Summer Solstice

Week 4w.c. 26/6/17

Creativity

Week 5 w.c. 3/7/17

Review of values

Week 6 w.c. 10/7/17

Review of values

Week 7 w.c. 17/7/17

Review of the year
Vision Art Day - June 30th 2016
During our transition day, the children and adults at Haydonleigh participated in a whole-school art event. Each group were responsible for producing an artistic letter of the alphabet, to create a large display in the school theatre of our Haydoleigh motto, 'I am talented; together we are amazing!' The project involved every child at Haydonleigh, our gardeners, kitchen staff, parent helpers, PTA, office, governors and Messy Paws, to name just a few!
Come and see our lovely new display when you next visit the theatre…
Haydonleigh Art Gallery
During October 2016, we held our first professional Haydonleigh Art Gallery. This special event was one of the highlights of the school year. The children were very happy to share their artwork, which had been professionally mounted, framed, catalogued and displayed on special boards, allowing visitors to stroll around our real "art gallery". Thank you to everyone who visited the art gallery and purchased a masterpiece in support of our school projects. We hope you've continued to enjoy admiring the piece now it's hung on your wall at home!
Haydonleigh Vision and Values
Our school is committed to working in partnership. As part of our school community, we aim for pupils, parents, guardians and staff to share the same values.
Having reviewed the results from our staff, parents and pupils questionnaires, which were conducted in the 2015-2016 academic year, a new School Commitment has been created. In order to establish a shared commitment, we invited members of our school community to participate in a survey which enabled us to better understand our communal values. Thank you for the 250 responses we received!
The new School Commitment document aims to communicate our shared promises as established through the 2016 Haydonleigh Vision Project. A full copy of the document can be found here:
Should you wish to discuss the school Vision and Values in any further detail, please do not hesitate to contact our Assistant Headteachers Mrs Mace or Miss Van den Daele.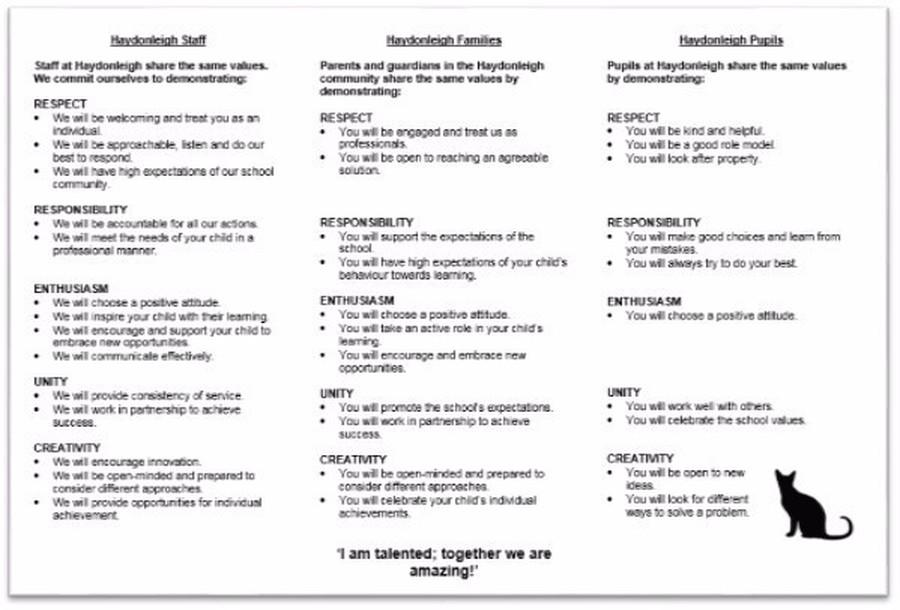 There's more to learning than meets the eye!
Read on to find out how Key Stage 2 pupils are being encouraged to embrace opportunities to improve their own learning behaviours, rather than just expanding their knowledge.
Year 3 and 4 - Growth Mindset
Year 3 and 4 have been developing their 'Growth Mindset'. This enables children and adults alike to succeed by working on skills to continually improve them. Pupils are developing an understanding that their abilities can be developed through effort, good teaching and persistence. When your child comes home they may celebrate 'getting themselves out of the learning pit!' This means they have worked on something they have found tricky, to find their own route to improve. Growth mindset people embrace failures as an opportunity to learn and improve their own abilities. Special days take place which celebrate 'Growth Mindsets' with the pupils to help embed this approach. Here is our Year 3 and 4 Growth Mindset display, which reminds children to celebrate their failures alongside their successes:
Year 5 and 6 - Building Learning Power
The Year 5 and 6 team have been 'Building Learning Power'. The children and staff have been developing their muscles in the 4R's- Resilience, Reciprocity, Resilience and Resourcefulness. These powers allow people to overcome barriers to their learning with greater independence, therefore nurturing learning skills rather than just knowledge. This will continue to support children's learning as they journey through Key Stage 2 and beyond! Several 'Building Learning Power' days have really helped the children to get to grips with this lifelong learning concept. The display in our 'Learning Hub' helps to encourage our pupils to build strong minds for tricky times, preparing young people for a lifetime of learning.