Welcome to the Year 6 page - Archive - Leavers from 2017-2018
Year 6 SATs week
Our fabulous Year 6 children have had a great week celebrating all their achievements to date. They enjoyed spending the Friday after their tests relaxing and unwinding at the cinema, before picnicking on the school field as part of our Royal Wedding celebrations for Harry and Meghan. We spent the afternoons reading our beautiful library bus books in the sun, playing rounders and other field games or hanging out on the trim trail. We'd like to say a big 'Thank You' to all the children (and their families) for their efforts in making this week such a positive experience!
Science Day
Year 6 welcomed a special visitor, Miranda Richardson, to teach us all about her scientific specialism: the workings of the human eye. We discovered all about the behaviour of the amazing human eye, its core functions, health and even its ability to play tricks on us! The children all researched a different function of the eye, before presenting their findings to the rest of the class. We then used this information to create a scientific report on how our eyes actually see.
Fire Safety Workshop
Before Christmas, Year 6 were visited by a Fire Safety Officer from Wiltshire Fire Service. During this interactive workshop, pupils were encouraged to consider potential fire hazards in their own homes and how to respond in an emergency situation. We learnt that having a working fire alarm in your house can reduce the risk of serious injury caused by fire by up to 95%! The children would like to remind you to test yours every week!
Victorian Day
Children in Years 5 and 6 arrived to discover their classrooms had travelled back in time to the Victorian era. The day started with Latin, followed by handwriting sessions. The children looked superb in their costumes! The boys were encouraged to practise their arithmetic whilst the girls participated in needlework (they were very relieved to discover how much our education system has changed since then!) Just like Jim Jarvis, in our class book 'Street Child', the pupils learnt how different life was for working children compared to wealthier families. Thanks to the work of individuals like Doctor Barnardo, they learnt how conditions improved for children during Victoria's reign. The children were very pleased to return as their usual selves the following day - although many said they'd rather enjoyed meeting their very strict new headmistress!
Christmas Celebrations
As the oldest children in the school, Year 6 pupils enjoyed an exclusive Christmas dining experience in the Small Hall. There was much music, laughter and (of course) Mrs McFadyan's famous roast potatoes! This was followed by a screening of the movie 'Scrooge', to celebrate all the children's hard work during their Charles Dickens 'A Christmas Carol' project.
Year 5 and 6 DT project – Brunel's Brilliant Bridges
In January children in Years 5 and 6 participated in a Victorian-themed House Team competition. The aim? To build the strongest bridge possible using only art straws and masking tape, taking top engineering tips from none other than Isambard Kingdom Brunel himself! The children worked in small teams to construct the strongest bridge possible over the course of a busy afternoon. The children allocated job roles before investigating different methods to join and reinforce the materials, before testing their bridges stability, design and strength. The winner was then announced as the House Team whose bridges held the heaviest combined weight, calculated as a mean average. Pumas were crowned DT champs! The children did an amazing job of displaying the Building Learning Powers of Reciprocity, Resourcefulness, Reflectiveness and Resilience during the afternoon.
World Book Day
As part of World Book Day, children in Years 5 and 6 celebrated with a 'day without desks'! They arrived upstairs and were asked to remove their shoes before entering their classrooms, which had been transformed into a 'Reading Café' complete with a selection of homemade cakes, jugs of squash, baskets of browsing books and even magical flying books along the corridors! The main menu for the day was reading for pleasure. During the morning, Years 5 and 6 invited Key Stage One pupils to join them in their Reading Café. During their visit, the children shared a specially chosen book with their reading buddy. It was truly magical watching the children share their favourite tales with such enthusiasm. The day was completed with a visit to our magical new library bus… rumour has it, this is no ordinary bus, as it contains portals capable of transporting children to distant destinations. We look forward to sharing our adventures with you shortly…
Haydonleigh House Captain Sporting Competitions
Our wonderful House Captains are always busy conjuring up their next intrahouse competition! So far this year, they've held a cross-country race and a Winter Olympics-inspired curling event. At both events, children in Years 1 – 6 were invited to attend and score as many points as possible for their fellow team members. A huge thanks to our House Captains for showing such commitment to our school sports, as they continue to dedicate their free time to plan, organise and facilitate these events. They really are a talented bunch, but together they are simply amazing!
Oxford Museum
The Year 6's have had a fascinating morning at The Oxford Museum of Natural History, exploring the topics of evolution and adaptation in the animal kingdom. They're looking forward to getting 'hands-on' with some of the museums most ancient artefacts this afternoon - rumour has it there's a 115 million-year-old iguanodon on the loose … and he's feeling rather peckish!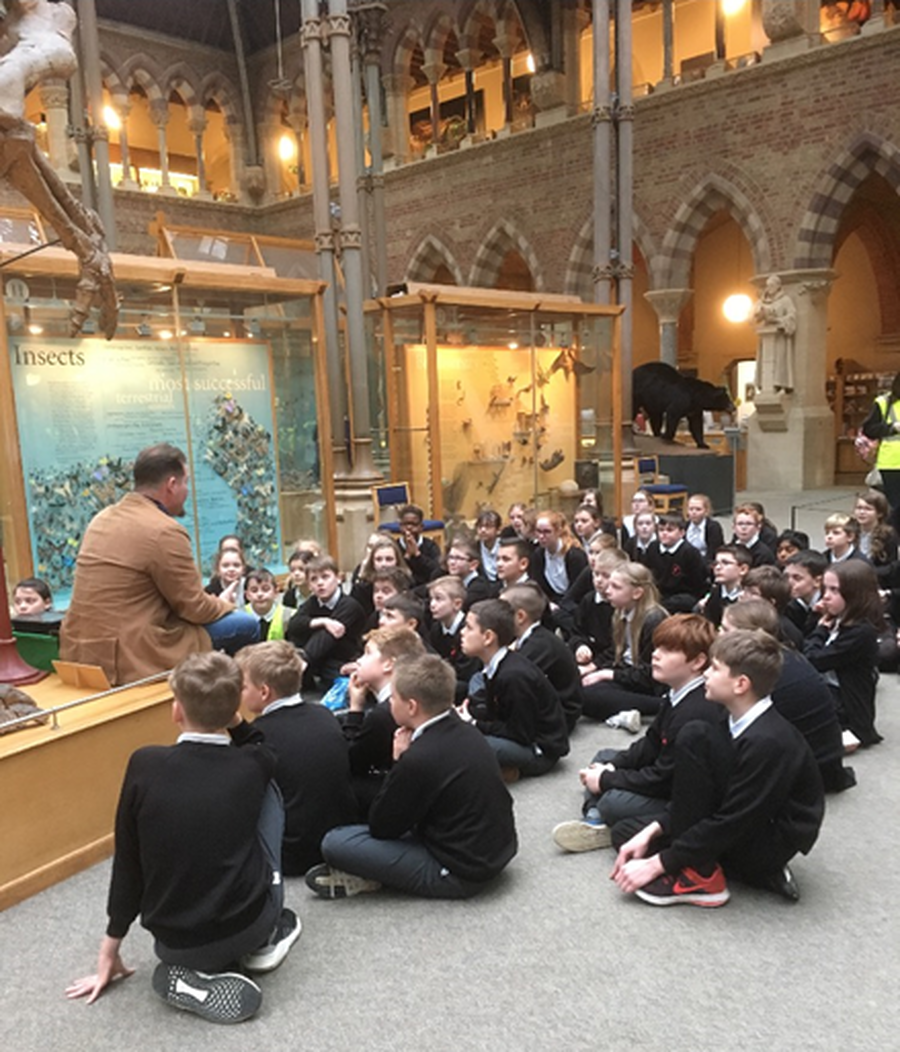 Evening Advertiser
Year 6 enjoyed participating in a special workshop earlier this week (w/c 11 September 2017) , exploring the themes of peace and conflict. We were so impressed with the pupil's behaviour and fabulous suggestions during the event, which aimed to promote peace and unity. Read more about this exciting project in the Swindon Advertiser article:
http://www.swindonadvertiser.co.uk/NEWS/15535698.Haydonleigh_pupils__39__pitch_for_peace/
Haydon Artist Society
Year 6 had a wonderful time visiting our local library, where they participated in an art workshop run by the very talented Haydon Artist Society. The children marvelled at the work of many local artists as they explored their portrait exhibition, before participating in an art workshop using mixed materials. The artists were very impressed with our amazing children's sketching and painting skills! We look forward to completing a Van Gogh inspired masterpiece this term. We'd like to thank all the lovely volunteers who helped make the trip such a success!
Year 5 and 6 House Teams trip - Swindon Railway Works and Steam Museum
Year 5 and 6 recently spent a day exploring the Swindon Railway Village in their house teams, where they discovered all about our local history. As part of our project on The Victorians, the children also visited the Steam Museum, finding out about the rapid changes to our local area during the development of the Swindon Railway Works. We had a fantastic time viewing lots of artefacts, trying on traditional costumes, experiencing Victorian pastimes and finding out about Brunel's plans for Swindon, before taking a stomp back in time around the site of the original works (led by our resident history buff, Mrs Rochester!) Our House Captains were really impressed with how well their teams demonstrated our Year 5 and 6 Learning Powers throughout the day of the trip: Resilience, Reciprocity, Respect and Resourcefulness. Why not view our photo gallery to see what a great day we all had!