PGL Update 2018
PGL Update Friday
Just under half an hour away
Please do not park in school car park and leave room on roads near gate for bus to turn in please
PGL Update Friday
Have left the motorway and are heading towards Newbury.
PGL Update Friday
Safely across on the ferry, now on the road heading home.
PGL Update Friday
All communication regarding the trip home will be posted here. Please do not call the school office as it will not be staffed all afternoon. Mrs Billinge will be in school and taking messages from Miss Van den Daele. A message will be posted as near to 3pm as possible anticipating that the group are off the ferry. A further message will be posted once the coach has left the motorway and one final message, hopefully around 4.30pm when they are half an hour away.
PGL Update Friday
... and we're off! Let the dragon boating commence. We've recovered from the disco, packed our bags, fuelled up with Weetabix and ready for action!
PGL Update Thurs
A fab final day at PGL - we've had an absolute blast at tonight's disco and danced our little socks off! This is the 'before' photo so you can see how lovely they all looked... the 'after' had far more flushed faces! Dinner today was spaghetti and meatballs followed by the ever-popular apple crumble. Delicious! Despite the very windy weather, the children tackled all the days activities with such enthusiasm we're feeling very proud of our wonderful Year 6s. We look forward to seeing you all tomorrow- we're off to pack our bags now and get a good night's sleep before our final activities tomorrow morning. What a wonderful trip it has been :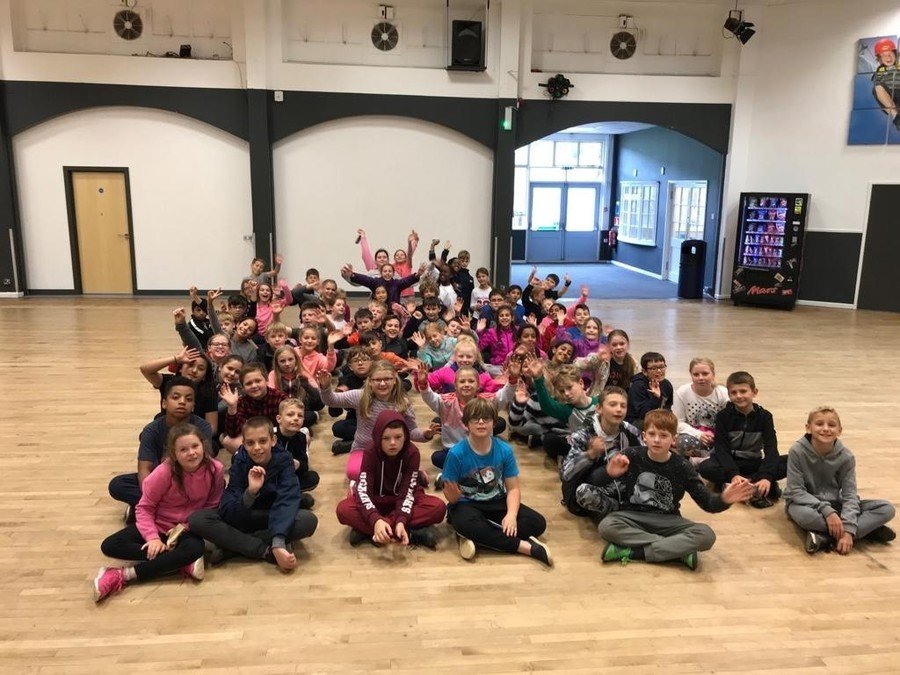 PGL Update Thurs 11:58
We're so excited for our last full day of activities at PGL! The children have got their outfits planned for the disco tonight and stocked up on sweeties and souvenirs supplies.
We've filled our tummies with eggs on toast for breakfast before heading off to meet our morning instructors... it's archery up next!
Although it's a bit wet and windy here this morning, it certainly hasn't dampened our spirits.
PGL Update Wed 20:05
Another wonderful day at PGL! Having a fab time completing the evening entertainment of 'Around the World' at the moment, with children finding flags to solve clues in small teams. The children are loving the chance to show their team working talents.
We've had a delicious dinner of curry, stir fry and noodles or cannelloni followed by chocolate crispy cakes.
Hoping we have another great nights sleep after a hectic day of climbing, abseiling, trampolining and even mud bathing! I wonder what adventures tomorrow will hold...
PGL Update Wed 18:21
What a fab morning! After filling up on hash browns, sausages, toast and cereals at breakfast, we've had a ball on the high ropes activities, including Jacob's Ladder and Trapeze. The children have continued to astound us with their bravery and team spirit. Some of us even enjoyed a bit of a mud bath on the sensory trail... just time for a quick shower before lunch! Although the time is going far too quickly for the children's liking, they're all keen to send their love home and tell you they're having an awesome time!
PGL Update Wed 16:57
Excited for our aeroball tournament!
PGL Update Wed 11:06
We hope you've got lots of washing powder!
PGL Update Tues 20:03
What a fantastic day we've all had! The children have displayed great teamwork, cheering each other on, showing great determination and generally being a delight with all the PGL instructors. What a lovely bunch they are! This afternoon we enjoyed exploring the Tunnel Trail and Team Sports - we've certainly got some budding athletes at Haydonleigh.
This was followed by a visit to the tuck shop, a dinner of lasagne, kiev or chicken nuggets and chips, with lemon drizzle cake for dessert. Yum! We're now singing sea shantys at the campfire before we snuggle into our cabins for some well deserved sleep. Everyone is happy and well. Night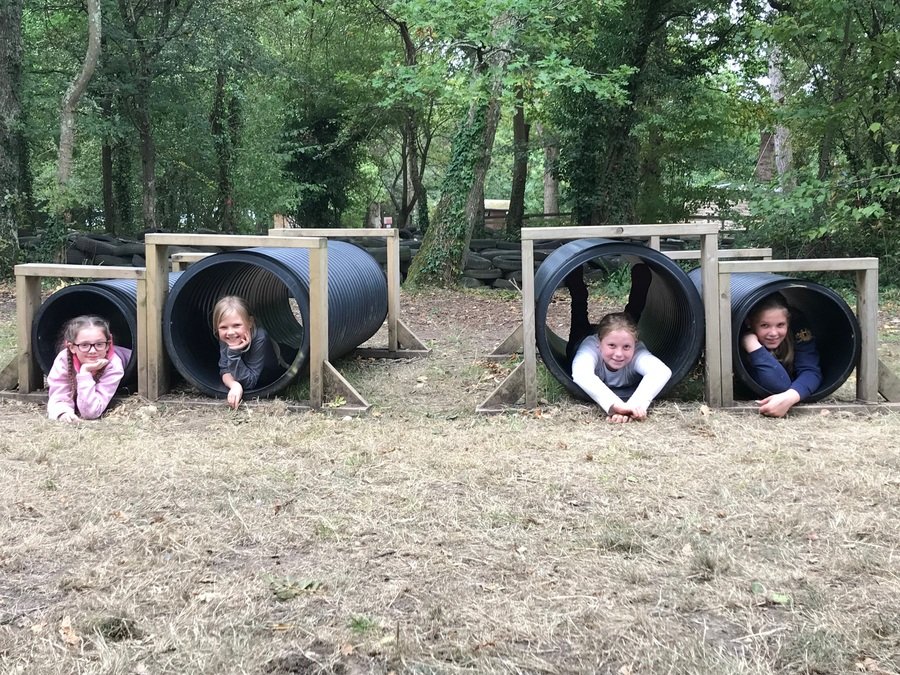 PGL Update Tues 12:06
A fab first morning at Little Canada! The sun's come back to join us whilst we've taken on the giant obstacle 'Challenge Course' followed by Buggy Building.
We're looking forward to jacket potatoes and salad bar for lunch before the afternoon activities begin. More photos to follow... we've got such an action-packed schedule the Haydonleigh photographer is gradually making their way around all the groups :
PGL Update Tues 9:53
Getting ourselves muddy, as promised ; )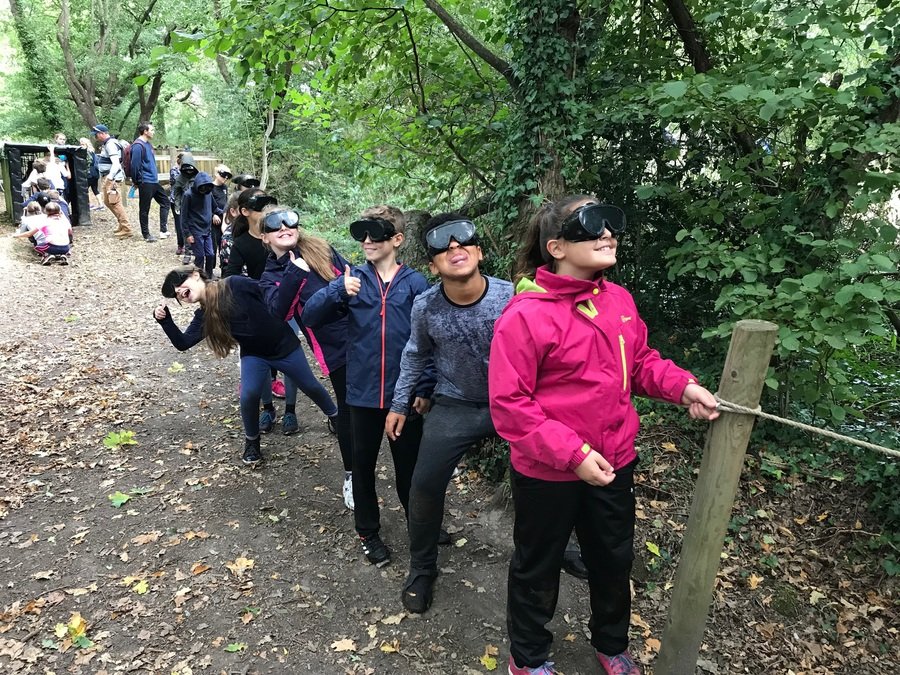 PGL Update Tues 6:28
Is it really day 2 of our PGL adventure already? Time has really flown! Last night the children solved a Cluedo treasure trail around the campus and worked brilliantly in teams to decipher a tricky set of clues- when we'd sussed out which PGL instructor was guilty, we all cheered at the wets-ecution (a bucket of cold water over their head!)
We all had an excellent first nights sleep in our cabins and feel well rested for the action-packed day ahead. We're looking forward to cooked breakfast, cereals and toast to fill our tummies before we head to the beach for our sea kayaking lesson... what a fab way to spend a Tuesday morning! The weather here continues to be good and to quote a child, "It's already way more awesome than I thought it was going to be!"
PGL Update Mon 17.43
We've all settled into our cosy cabins and unpacked our belongings. We're now on a site tour getting to know our new surroundings for the week ahead. Looking forward to dinner of bangers and mash!
PGL Update Mon 16:02
Just on the final leg of our journey on the coach to the PGL campus after a very calm crossing. It's really warm so hoping the weather holds for the rest of the week! All children safe, happy and well. Here they are enjoying games on the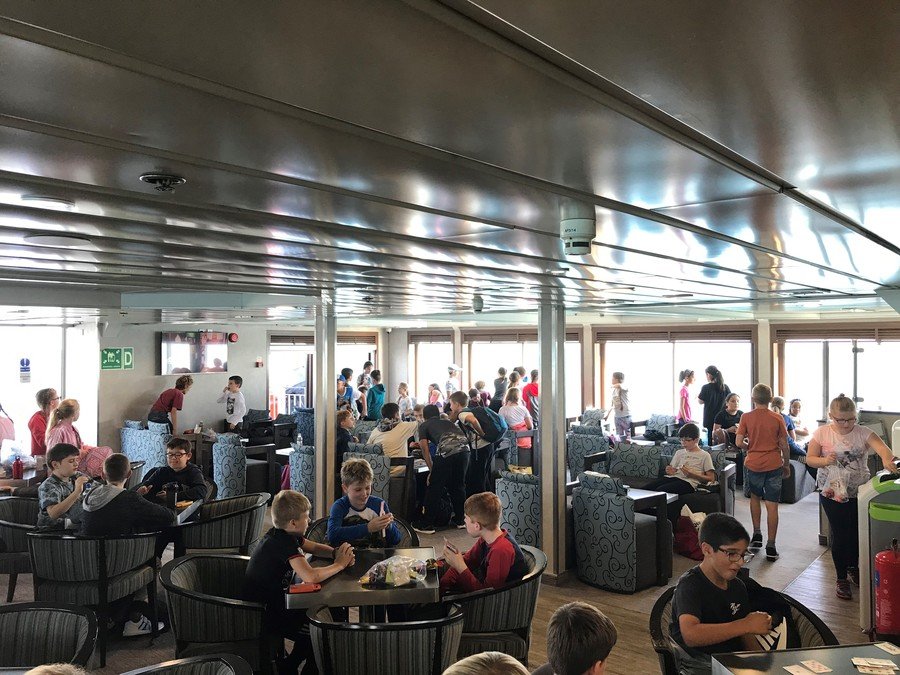 PGL Update Mon 15:14
Have arrived in a very sunny Portsmouth in good time for our ferry. Just time for a few rays of sunshine and a snack before we board the ferry!