Year 6 trip to Isle of Wight
PGL Update 2017
PGL Update
Arrived at Porthsmouth ahead of schedule, now just waiting to board the ferry! Sunny skies on the horizon, hooray!
PGL Update 15.38
Have all arrived safely at a very warm and sunny PGL and are now settling into our cabins... let the battles with our duvet covers commence!
PGL Update 18.17 - 18/09/17
Everyone is safely unpacked into their cosy cabins and has explored the PGL centre. We're now tucking into our first meal at Little Canada- sausages and mash, curry and naan bread or pasta bake, all followed by doughnuts and ice cream... some of us even managed a bowl of salad as well! Filling ourselves up with energy for a walk to the beach this evening for a campfire and toasted marshmallows... let's hope the weather holds out! All children are settled and happy : )
PGL Update - 08.16 - 19/09/17
We were greeted this morning by a beautiful sunrise over the estuary! After a cosy first night, there were a few bleary eyes around the breakfast table this morning. Many of the children welcomed a hot cup of tea, toast and jam followed by cooked breakfast as they shared tales of last nights toasted marshmallows and campfire songs. We're now getting all kitted out for our first group activities this morning, which include fencing and problem solving. The sun has got his hat on (despite a few downpours last night) so we're hoping for another dry day... and perhaps a spot of red squirrel watching!
PGL Update - 09.44 - 19/09/19
Problem solving - best way to untie a knot of children? Giggles apparently!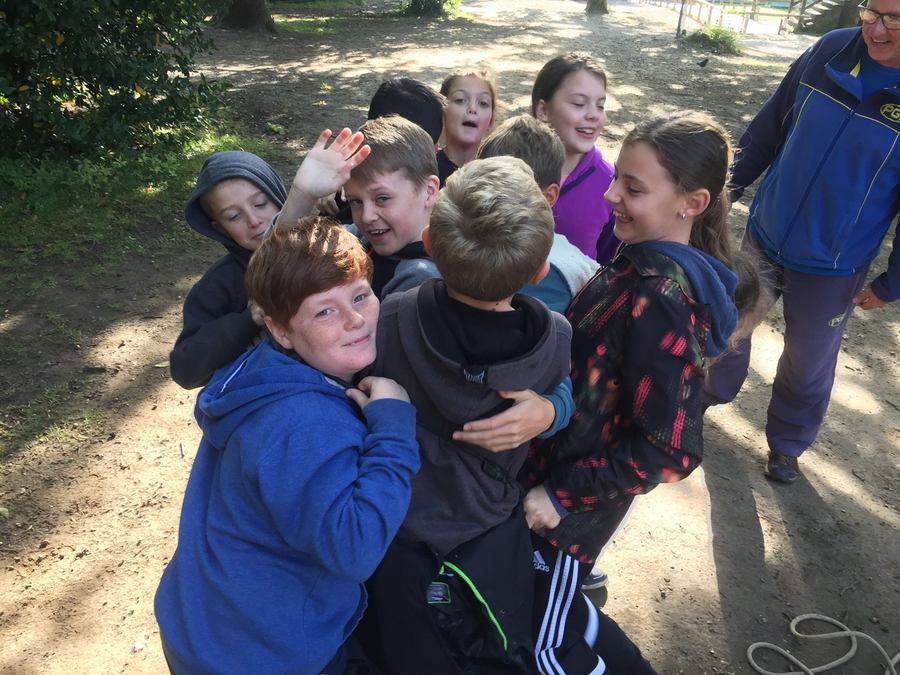 PGL Update - 13.47 - 19/09/17
A gloriously sunny afternoon by the creek. Smiles all round!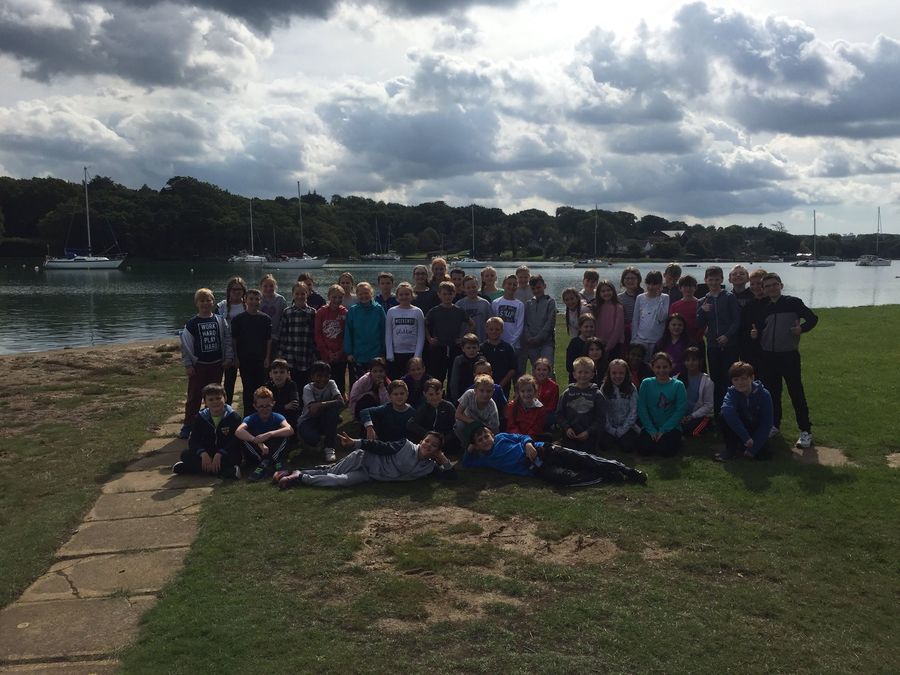 PGL Update 18.59 - 19/09/17
Another action packed day at PGL making memories to last a lifetime! We've scaled the dizzy heights of a high-wire trapeze, unlocked the mystery of The Matrix, become experts in Aeroball and somewhere in between have squeezed in just enough time to scoff jacket potatoes, chicken nuggets and chips or pasta and meatballs followed by jam rolypoly. We're about to burn some calories off (boy do we need to!) completing our evening activity, 'Passport to the World'. The children also enjoyed visiting the tuck shop today and have loaded their suitcases with souvenirs and gifts aplenty- what a generous bunch we are! Let's hope for a great nights sleep before we hit the beach tomorrow morning for a spot of canoeing. We're all having a great time and wish the week would stop going quite so quickly! Sweet dreams everyone.
PGL Update - 0900 - 20/09/17
A great start to another busy day with a dawn chorus from the friendly local geese, before a hearty breakfast of sausage sandwiches and hash browns... yum! We're just squeezing ourselves into our wetsuits before we venture back towards the beach for canoeing (and perhaps a bit of paddling). And all before 9am... we don't hang about!
PGL Update - 10.01 - 20/09/17
... and they're off!
PGL Update 15.09 - 20/09/17
A snapshot of the fun so far... plenty more to follow!
PGL Update - 09.38 - 21/09/17
Morning everyone! After a super nights sleep the children weren't too keen to leave the warmth and comfort of their cabins, but the smell of sausages, beans, scrambled egg and toast soon tempted them out of their pyjamas and up to the dining hall. We're a bit worried the children are getting used to a cooked breakfast EVERY morning, so they might expect you to crack out the frying pan on Saturday!
There was still enough time for a quick play along the riverside before we headed off to try out our skills in archery. We're all getting revved up for mid-morning when our teams go head-to-head in the Haydonleigh Dragon Boat race. Let's hope all that food will have built up their arm muscles! They're going to need them if they're hoping to beat Mr Swindall...
PGL Update 16.31 - 21/09/17
A hectic last day at PGL! The day got off to a rather soggy start with Dragon Boating, during which the children battled each other in three boats to take the title of champions. We'll leave it to them to fill you in on the results...
This was swiftly followed by a quick refuelling of filled baguettes, nachos and salad before a quick wardrobe change into our tattiest clothes in preparation for the Sensory Trail. After this mornings downpour, it proved to be boggy, muddy, soggy, smelly ... but a whole lot of fun! We hope you've stocked up on washing detergent as you're certainly going to need it!
We're now using our last ounces of energy on the Low Ropes Challenge before tucking into burgers for dinner. It'll then be time to shower and remove a few hundred layers of mud, before putting on our gladrags and hitting the dance floor at the PGL disco.
What a week it's been! The children have been amazing and received lot of compliments on their manners and teamwork from the PGL instructors. We've made so many memories, we look forward to sharing them with you all tomorrow!
PGL Update - 09.29 - 22/09/17
There were definitely a few sleepy heads around the breakfast table this morning! Although, after all the dancing and giggling at the disco last night, it's hardly surprising. Needless to say, the children loved the opportunity to perform a Wake and Shake routine on the dance floor, much to the amazement of the other schools! This morning, the children enjoyed their final cooked breakfast before emptying their cabins and packing their cases, ready for our departure. We're all looking forward to Jacob's Ladder and Tunnel Trail this morning before our Friday lunchtime treat, 'Build a Burger'. We can't wait to get home and catch up on sleep (especially the teachers!) but have loved sharing the last week together in this special place. It's been brilliant seeing so many talents shared and watching new friendships blossom. See you all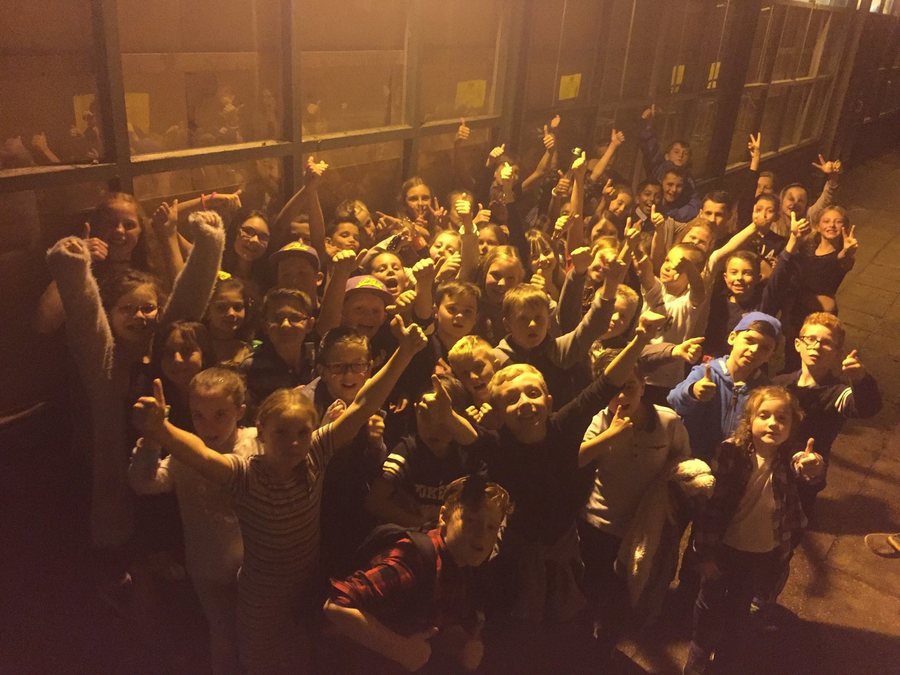 PGL Update - 13.15 - 22/09/17
We've waved our goodbyes to Niko and Talia, our brilliant PGL leaders, and are now on the coach heading to the ferry port. We'll keep you posted with our expected time of arrival... get your washing machines fired up!
PGL Update - 22/09/17
We've just left the ferry port after a slightly delayed crossing. The lovely ferry manager let us have the cinema room on the ferry, all to ourselves! We're hoping to make up the time but have heard rumours of an accident on the M4 causing a few delays near Swindon. We'll keep you posted!
PGL Update - 22/09/17
The bus has passed the accident and current ETA barring any further delays is 5.45pm. I will update as needed. Please spread the word in any way - do not come to school before 5.45!