Welcome to Haydonleigh Primary School, firstly, I hope that you and your family are safe and well in the current circumstances. This is a strange and difficult time for us all but can I reassure you that we will do everything we can to ensure your child's start with us goes as smoothly as possible.
Things will inevitably be different this year. Until we are directed to open our school to all pupils I am unable to offer any detail with regard to the induction programme we can offer. Please keep a regular check of the following ways in which we communicate to parents:
via direct emails and texts, Facebook, Twitter and School Jotter App - link to app store below
Meantime please share the photographs and message from our resident black cat with your children and read the information pack. We will be in touch as soon as possible, thank you for choosing our school.
Frances Billinge
Headteacher
School Flip Book to share with your child about school in September - https://www.flipbookpdf.net/web/site/3d53d9cad2599949172dcfd0ada3bd785f887716202007.pdf.html
parent information
come and meet our lovely foundation stage teachers
click on the profile to open and read
Mrs Edds - Duckling's Teacher
Mrs Steward - Robin's Teacher
Mrs Muckleston - Robin's Teacher
Miss Griffiths - Puffin's Teacher
Testimonials from current parents and pupils
"Mindset and mental health is their top priority."
'My eldest son is currently in year six and I was over the moon this morning to find out that my youngest has been offered a place at Haydonleigh in September 2020. When my son started the school back in 2013 I was extremely anxious, it wasn't our first choice and we'd had all sorts of issues with child minders and nurseries with him not settling, however, he started Haydonleigh without a single tear and I truly believe the school should take the credit for this. The headteacher Mrs Billinge is lovely and she has an amazing team supporting her. Throughout this current Pandemic the emails and updates we are receiving are eye watering and show just how much the children mean to them, mindset and mental health is their top priority. We as a family very much look forward to starting our second journey with you all later in the year'
"Friendly, confident, helpful, reassuring staff."
Sidney starting school was the first experience of school life since I went and a lot has changed since then, so I was terrified and trying not to show that to Sidney added extra pressure.
The first day he started his induction, I walked through the gates and my anxiety lifted as soon as I saw friendly, confident, helpful, reassuring staff and it is true that I was in the same position as most other mum's there.
The induction process started off in small groups and really easing us both into the environment and structure of school life. So that the first day Sidney started his full week at Haydonleigh, I felt natural nerves, but mainly pride of my little man in his uniform and full confidence that I was leaving him in the best possible hands.
"Fab school"
"I already have a child at Haydonleigh who is moving onto secondary this year but as a school they are so friendly, caring, understanding and as a parent there was no question I was going to send my second child there, such a fab school!"
From one parent to another……. Try not to worry, your children will be totally fine, Haydonleigh will have everything sorted, and you will soon feel like part of their amazing family!!!!"
"My eldest daughter started school with Haydonleigh in September 2018 (and my youngest daughter will be starting this September).
We had no idea what to expect when Eva started. She had been to a small private nursery up until this point, and Haydonleigh looked really exciting to us all…… However, as a parent it was also quite daunting! How could our little girl be big enough to go to school already (and the school seemed enormous compared to her little nursery room)….. Who would look after her? How would she find her way around? What if she didn't know where the loo was? How would she cope being in a classroom all day? Look at all of these children – how would she ever learn all of these names and make friends? Look at all these parents – did I need 'make new friends' too? All of the 'usual' questions and worries that I would imagine go through every parents head…..
Before she started we were also given a schedule of her first few weeks – where Reception do shorter days to get them used to school. We needn't have worried. On the first day Eva lined up with everyone else, her teacher and teaching assistant came out to say hi to them all, and they all had name stickers and were given their own peg to hang their coats on. Every single child in her class ran in happily – not one tear (well, only from the grown ups left behind!!)
At pick up time, the kids all came out happy and smiling. They are taught to line up at the gate (both entering and leaving the classroom), and the teachers are always with their line to make sure that children are only released to their parents – it is amazing how quickly the teacher recognises 30 new parents faces!!! Children are only released to known faces, and are kept with the teacher until their parent arrives. Eva was full of noise about her first day at school – she had already played lots of games, had fun and started to make friends. On her first day she made friends with a girl called Grace – nearly 2 years later and they are still firm besties. She also knew her way around, hadn't got lost, and knew who to ask for help. Everything we had worried about didn't matter. She was fine, she loved it, and the school completely had everything covered.
Throughout her entire year in Reception, we never had a single day where she didn't want to go into school. She loved it from her very first day, and still does now. She adores her class teachers, all of the helpers, and Mrs Billinge (who is regularly on the school gate to welcome you in the morning, and chats to all of the children). Whilst I don't have experience of other primary schools I can honestly say that, in my opinion, Haydonleigh is a fantastic school, the teachers are so approachable and care about each and every child in their class, and whilst it is a large school, it quickly feels like you're part of one big happy family. We can't wait for our youngest to start at Haydonleigh in September.
"Haydonleigh is the best school ever!! It has brilliant teachers, an amazing library bus and is so much fun."
When I first started school I only knew two people, but I loved Miss Griffiths and soon had lots of fun and made new friends. There are 30 brilliant children in each class,
The food is scrummy with lots of choices, especially pizza.
There is lots to do in the Reception playground - balance beams, playhouses, books to read, and games to play.
I am now in Year 1. I love Haydonleigh and I can't wait for my little sister to come here in September."
by Eva, Age 6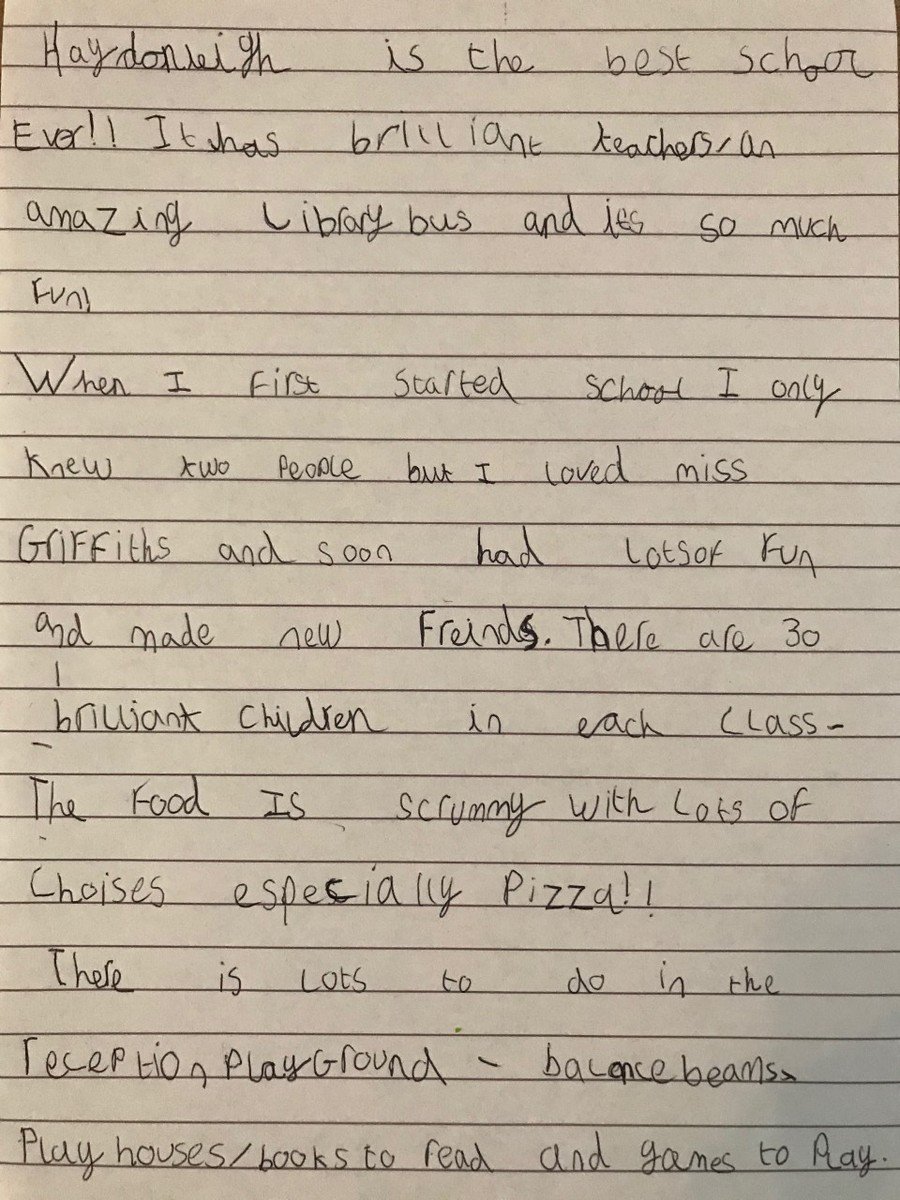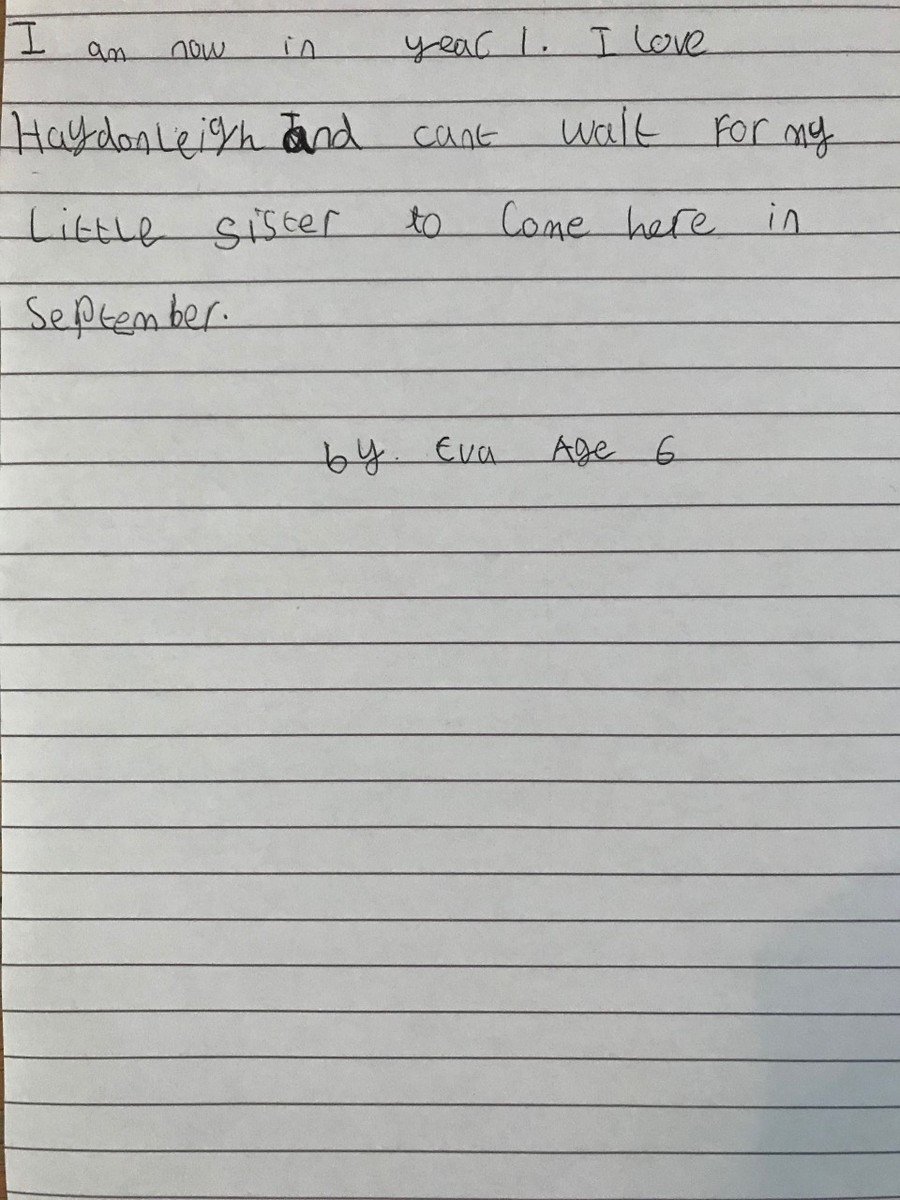 Scopay - school online booking system information.
https://www.flipbookpdf.net/web/site/9e76d3826f0692d8c1e07858aa7f15de1351c8b2202007.pdf.html