Welcome to the Year 6 page
Miss Van den Daele/Mrs Kirk Mrs Codling
Class 19 Class 20
Mrs Robathan
Mrs Franklin
Parents Curriculum Evening - Tuesday 14 November
Click here to see the presentation notes


PE days
Year 6 PE days are usually on Wednesdays and Thursdays, however children need to have their PE kits in school every day of the week.
Oxford Museum
The Year 6's have had a fascinating morning at The Oxford Museum of Natural History, exploring the topics of evolution and adaptation in the animal kingdom. They're looking forward to getting 'hands-on' with some of the museums most ancient artefacts this afternoon - rumour has it there's a 115 million-year-old iguanodon on the loose … and he's feeling rather peckish!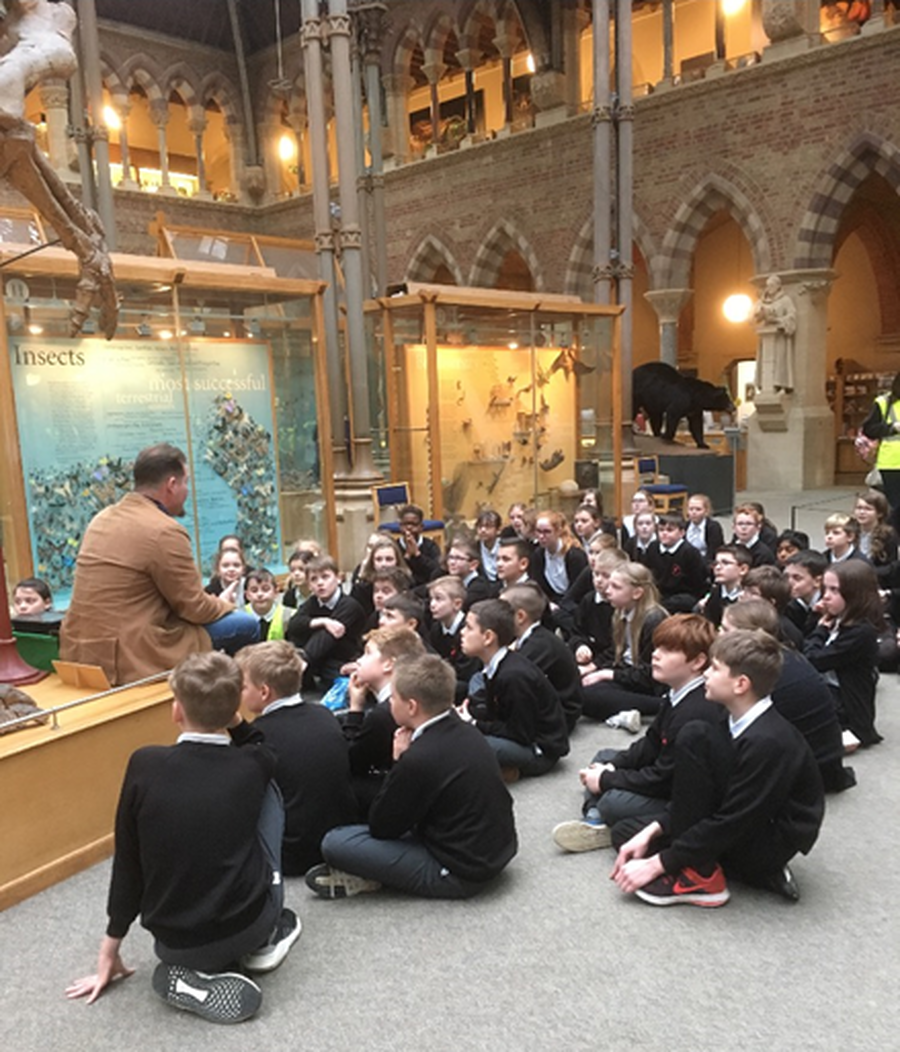 Evening Advertiser
Year 6 enjoyed participating in a special workshop earlier this week (w/c 11 September 2017) , exploring the themes of peace and conflict. We were so impressed with the pupil's behaviour and fabulous suggestions during the event, which aimed to promote peace and unity. Read more about this exciting project in the Swindon Advertiser article:
http://www.swindonadvertiser.co.uk/NEWS/15535698.Haydonleigh_pupils__39__pitch_for_peace/
Haydon Artist Society
Year 6 had a wonderful time visiting our local library, where they participated in an art workshop run by the very talented Haydon Artist Society. The children marvelled at the work of many local artists as they explored their portrait exhibition, before participating in an art workshop using mixed materials. The artists were very impressed with our amazing children's sketching and painting skills! We look forward to completing a Van Gogh inspired masterpiece this term. We'd like to thank all the lovely volunteers who helped make the trip such a success!
Year 5 and 6 House Teams trip - Swindon Railway Works and Steam Museum
Year 5 and 6 recently spent a day exploring the Swindon Railway Village in their house teams, where they discovered all about our local history. As part of our project on The Victorians, the children also visited the Steam Museum, finding out about the rapid changes to our local area during the development of the Swindon Railway Works. We had a fantastic time viewing lots of artefacts, trying on traditional costumes, experiencing Victorian pastimes and finding out about Brunel's plans for Swindon, before taking a stomp back in time around the site of the original works (led by our resident history buff, Mrs Rochester!) Our House Captains were really impressed with how well their teams demonstrated our Year 5 and 6 Learning Powers throughout the day of the trip: Resilience, Reciprocity, Respect and Resourcefulness. Why not view our photo gallery to see what a great day we all had!
Documents

Dates
Fri 23rd Feb – Open Session (come into class and see your child's recent work)
Tues 13th March – Parents Evening
Thurs 15th March – Parents Evening
Tues 27th March – Year 6 SATs meeting for parents
Fri 20th April – Open Session (come into class and see your child's recent work)
(Mon 14th May – Thursday 17th May – YEAR 6 SATs EXAM WEEK)
Mon 14th May – SPAG exams- Paper 1 and Paper 2
Tues 15th May – Reading exam
Weds 16th May – Maths exams – Paper 1 and Paper 2
Thurs 17th May – Maths exam – Paper 3
Fri 18th May – Year 6 Reward Day
Fri 8th June – Open Session (come into class and see your child's recent work)
Mon 25th June – TD Day
Weds 4th July and Thurs 5th July - Secondary School transition days (to be communicated and confirmed by secondary schools)
Weds 11th July – Year 6 production at 6pm
Fri 13th July – Year 6 production at 9.30am
Thurs 19th July – Year 6 Leaver's PTA Disco
Thurs 26th July – Year 6 Leaver's Assembly at 9am

PGL
Year 6 Meeting Presentation (Please click to open)


Year 6 Homework
Year 6 Homework for week commencing 19th February 2018:
CGP English booklet pages 2, 14, 15 and 20
CGP Maths booklet pages 8, 18, 20 and 21
Spelling homework
Children need to practise their set spellings every evening at home in their home spelling book. There are lots of spelling strategies suggested in this book to refer to.


Heavenly Homework
We've had some stonking homework handed in this term. We'll keep adding lovely examples throughout the year! Please find below a link to the full homework menu, should you wish to have another look.
Links
Useful information
Homework is handed out on Monday and collected back in on the following Monday.

We expect every child in Year 6 to read for at least 15 minutes at home every school night. We also expect children to record this in their reading record. It is imperative in Year 6 that children are reading regularly in preparation for their SATS examinations and Secondary school.

All Year 6 children are expected to practise the times tables they are currently learning at home. Evidence of this in their homework book, when possible, would be much appreciated!

Year 6 children must practise their weekly spellings in their home spelling book five times per week.

In addition to the above, Year 6 children will be set a piece of separate English and Maths homework each week. Their projects will vary and will come with individual guidance. The general rule of thumb is that each piece of homework should take a minimum of 20 minutes.

If your child has anything they wish to discuss, please encourage them to approach their teacher first. In Year 6 we strive to achieve greater independence in preparation for Secondary School. We operate an open-door policy and welcome parents and guardians to approach and discuss any concerns with their child's teacher. Many thanks for your support in this busy academic year.
Links to other sites

Certain links, including hypertext links, in Our Site will take you outside of our site. Links are provided for your convenience and inclusion of any link does not imply endorsement or approval by us of the linked site, its operator or its content. We are not responsible for the content of any website outside our Site.