Welcome to the Year 6 page
Miss Kenshole Miss Van Den Daele
Orion Class Hercules Class
Mrs Kirk
Mrs Titcombe
Mrs Yockney
PE days
Year 6 PE days are usually on Mondays and Wednesdays, however children need to have their PE kits in school every day of the week.
Reward Trip
12th May 2017 - Year 6 had a fantastic day celebrating all their hard work over the last few weeks! We are so proud of how hard all the pupils, staff (and parents!) have worked towards the SATs exams, making today's cinema trip all the more deserved. A big thank you to everyone at home who helped make the exams week such a calm and positive experience. Thanks for all the lovely feedback we've had from parents and pupils alike. Well done Year 6 - what a talented bunch you are!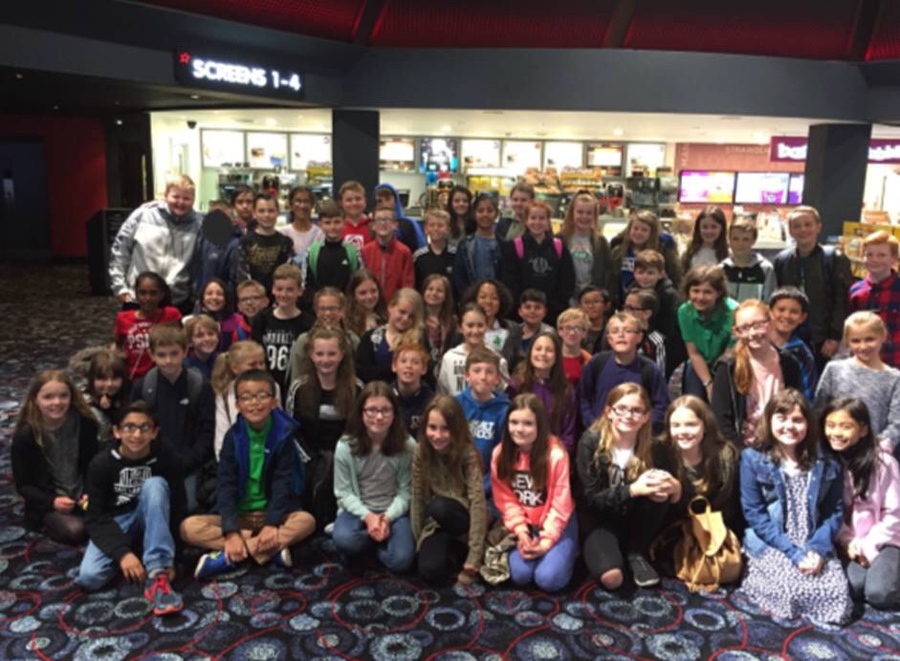 Art Gallery
Year 6 have been working with the award-winning artist Cath Riley in preparation for our Haydonleigh Art Gallery. Check out some of our wonderful sketches of still-life objects. She's even been kind enough to email us to say how pleased she is to have inspired some budding young artists!
PGL
Year 6 had a wonderful time at PGL and look forward to sharing the full album of photos with you later on in the year. Here are a few sneak previews!
Roald Dahl's 100th Birthday
After reading 'Boy', by Roald Dahl, the children investigated the circumstances leading to 'The Great Mouse Plot'. They then typed up their own crime reports on this terrible event. Here are a few for you to enjoy!
World War 2
Year 6 have been working hard to develop our Year 5 & 6 Hub. Look at our lovely World War 2 display! The children are enjoying borrowing books and artefacts from the library to research more on this interesting topic. They have also been 'Building Learning Power' with the themes of Responsibility, Reciprocity, Resourcefulness and Reflectiveness in our 'BLP' zone.
Documents
Dates
Year 6 Homework
Maths homework
Our maths homework is to complete the pages (set by your teacher every week) from the Maths CGP question book. Children are also required to practise their times tables with the related division facts each week.
English homework
Our English homework is to complete the pages (set by your teacher every week) from the English CGP question book.
Reading homework
Children are expected to read 5 times a week for approximately 20 minutes and record it in their reading journals.
Spelling homework
Children need to practise their set spellings every evening at home in their home spelling book. There are lots of spelling strategies suggested in this book to refer to.
Heavenly Homework
We've had some stonking homework handed in this term. We'll keep adding lovely examples throughout the year! Please find below a link to the full homework menu, should you wish to have another look.
Links
Useful information
Homework is handed out on Monday and collected back in on the following Monday.

We expect every child in Year 6 to read for at least 15 minutes at home every school night. We also expect children to record this in their reading record. It is imperative in Year 6 that children are reading regularly in preparation for their SATS examinations and Secondary school.

All Year 6 children are expected to practise the times tables they are currently learning at home. Evidence of this in their homework book, when possible, would be much appreciated!

Year 6 children must practise their weekly spellings in their home spelling book five times per week.

In addition to the above, Year 6 children will be set a piece of separate Literacy and Numeracy homework each week. Their projects will vary and will come with individual guidance. The general rule of thumb is that each piece of homework should take a minimum of 20 minutes.

If your child has anything they wish to discuss, please encourage them to approach their teacher first. In Year 6 we strive to achieve greater independence in preparation for Secondary School. We operate an open-door policy and welcome parents and guardians to approach and discuss any concerns with their child's teacher. Many thanks for your support in this busy academic year.
Links to other sites

Certain links, including hypertext links, in Our Site will take you outside of our site. Links are provided for your convenience and inclusion of any link does not imply endorsement or approval by us of the linked site, its operator or its content. We are not responsible for the content of any website outside our Site.